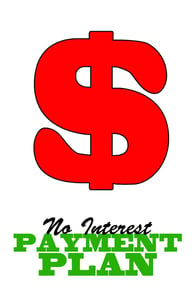 $

10.00
Buy ANY item in our store and pay only a small down payment and NO INTEREST. Divide your payments up into 2, 5 or 10 payments all with NO INTEREST and NO CREDIT CHECK.
We don't want this bad economy to keep you from spending your money with us-- so don't let lack of funds worry you!
By choosing INTEREST PLAN you are agreeing to the payment plan arranged, and there are NO REFUNDS on payments. If a buyer fails to make a payment within a 45 day window you may lose your claim to an item.
CHOOSE PAYMENT PLAN and send the paypal default down payment. In the paypal comments section please reference the item or items you are ordering and we'll put them aside for you and create an account. Your item(s) ship when payment (plus shipping) is made in full.
ThaNk YoU!