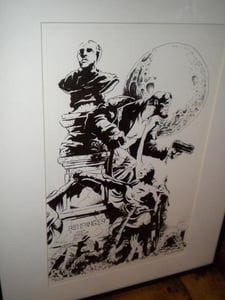 $

25.00
You choose the character and it will be drawn as a completely original one of a kind piece of artwork in ink on art paper or bristol (depending on the size).
Why buy a print when you can own a one of a kind ORIGINAL piece of art! Whether you're buying for investment or enjoyment there is nothing like original art!
You get to choose the character(s) PLEASE REMEMBER TO ADD SHIPPING TO YOUR ORDER!
A PAYMENT PLAN IS AVAILABLE FOR THIS ITEM-- Choose DOWN PAYMENT and contact [email protected] to arrange a payment plan over the course of several months. I want to make this available to as many people as possible. NO REFUNDS on PAYMENT PLAN OPTION. Your payment is a commitment to buy.
SEE Examples of the Commissions at
http://undercoverfish.blogspot.com/
CHOOSE YOUR OPTION
1- 6x9 convention sketch black and white
head or bust shot
25.00 & 6.00 US shipping $11 international shipping
Add $15 for hand coloring
2- 8.5x11 or 9x12 black and white
full body with no backgrounds
75.00 & 6.00 US shipping $11 international shipping
3- 8.5x11 or 9x12 full color painting (watercolor)
full body with backgrounds
125.00 & 6.00 US shipping $11 international shipping
4- 11x17 black and white
full body NO backgrounds
$125.00 & 10.00 US shipping $20 international shipping
5- 11x17 black and white
full body with backgrounds
175.00 & 10.00 US shipping $20 international shipping
6- 11x17 full color painting (watercolor with gouache)
full body with backgrounds
275.00 & 10.00 US shipping $20 international shipping
7- 11x17 full color painting (OIL and ACRYLIC)
full body with backgrounds
500.00 & 10.00 US shipping $20 international shipping
8- 11x17 full color professional quality print
of any black and white commission
& 75.00 (free shipping with original order)
9- COVER RECREATION
Original Art and Full Color Professional Print with Logos and Lettering
TWO Pieces of art!
Original is black and white 11x17 Print is either 11x17
or comic book size (6 3/8 x 10 ¼
250.00 & 10.00 US shipping $20 international shipping